Window Cleaning In Apple Valley MN
Dakota County's
Top Rated
Window Cleaning
Get the best Window Cleaning In Apple Valley MN
You don't need to keep searching for the best Window Cleaning In Apple Valley MN, because you have found us! We're confident in our abilities to provide excellent window cleaning services because we have years of experience in the area with an ever-growing list of happy and satisfied customers. Our team is hardworking and highly trained so that we can live up to our reputation as the best window cleaners in town. We are your one-stop shop for all your window cleaning needs. Our friendly customer service team is always available to answer any questions you may have or help you with any window issues you may be experiencing. See for yourself why we're recommended so highly – contact us to schedule a time for us to come clean your windows!
Our Dakota County Window Cleaning Services
Click A Box To Learn More About Each Service
Window Cleaning In Apple Valley MN Will Brighten Up Your Home Instantly
Endless lists of cleaning and maintenance tasks can feel like a never-ending burden, but we can help take care of one item on that list – cleaning your windows. Let us help ease your load so you can focus on other important tasks around the house. At Reflections Window Cleaning In Apple Valley MN, we understand how tough it can be to keep your windows clean – especially if you live in an area with a lot of pollen or other debris. That's why we offer our professional window cleaning services to take on the job for you! We offer cleaning for both the inside and outside of the glass, as well as cleaning the window screens and washing out the tracks. This will leave your windows sparkling and give you the best view possible. Our effective and thorough window cleaning will brighten up your home more than you could imagine, so don't hesitate to give us a call today!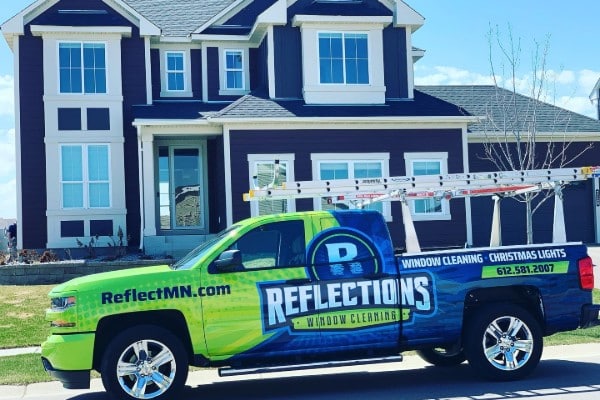 Why Choose Reflections Window Cleaning In Apple Valley MN
At Reflections Window Cleaning In Apple Valley MN, we pride ourselves on being a professional, experienced, and insured company. Our hard-working team is known for providing outstanding service and for being extremely friendly to our customers. With us, you can be confident that you will be satisfied with the job we do and that you will never need to use another window cleaning company again. For your peace of mind, we always carry one million dollars in liability insurance in case of an accident or other unforeseen event. We also use a water-fed pole to reach up to three stories, but we never compromise on quality or the level of service we provide for you. You can rest assured that we have your best interests at heart and will always go the extra mile to serve you.
We only take on jobs that we know we can complete to the best of our abilities and always aim to deliver work that will exceed our client's expectations. We know that we need to earn our client's business and are always working hard to show how professional, reliable, and reputable we are. We're not in this business to make a quick buck or take advantage of anyone – rather, we're a hardworking and honest company that always puts our clients first.
Restore Your Property Instantly!
We're Comitted To Your Happiness
Super Awesome benefits for you to enjoy...
Real Window Cleaning Reviews From Happy Customers
WHAT Your
Neighbors
ARE SAYING
Window Cleaning In Apple Valley MN
Reflections window cleaning did a wonderful job! My windows have never been this clean. There were two areas of concern that the cleaners brought to my attention. They explained the situation fully. They young men that came were respectful the entire time they were in and out of the house and wore masks the entire time they worked. I would recommend them to anyone!.

Di Ann Rundquist
Window Cleaning In Apple Valley MN
Our first time using Reflections Window Cleaning for our home. The crew was professional and friendly. They were right on time with their appointment window and sent a text when they were on their way. As a dog owner, much appreciated so we could avoid all the barking when there is a knock on the front door. One big reason why we went with Reflections is because they did not have to climb on ladders to reach all the windows. All of their equipment reached the upper floor windows while the crew remained safely on the ground. We'll see you guys again next year!.

Steve Nieckarz
Window Cleaning In Apple Valley MN
The windows look amazing! The crew was professional, thorough, and took the time to walk through the house to discuss a couple of window concerns at the end of the window cleaning. They also were kind enough to offer some advice on how to keep things looking good. Seriously, the windows are so clear, it doesn't even look like there is glass there! Great job!

Karen Leddy
Frequently Asked
Dakota County Window Cleaning Questions
Our Core Exterior Cleaning Services
Ready To Improve Your View?